Mimmo Campanale – drums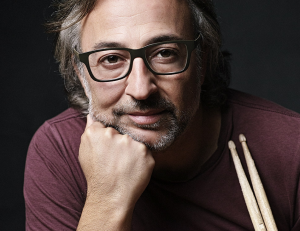 Download: Biography
I matured several experiences in the land of Jazz and Pop music as a self-taught.
The main interest and musical research is Jazz, since 1984.
In 1985 I took part in the Jazzerie's group, with Maurizio Quintavalle, Nico Stufano Roberto Ottaviano at the sax soprano, recording two discs for the Splas'(h) records.
Since 1986 I took part in the Mario Rosini Trio with Paolo Romano at the electric bass guitar.
In the 1987 I formed a trio with the double bass player Maurizio Quintavalle and the pianist, mourning friend, Davide Santorsola, recording five discs.
Since 1988 I collaborated with the Pop group " Novecento", taking part in several tours in Italy and in the production with world famous guests, like: Billy Preston, Stanley Jordan, Eumir Deodato, Al Jarreau.
Since 2000 I took part in the Con Alma trio with Guido Di Leone – guitar and Vito Di Modugno – Hammond organ recording two discs.
In the 2007 I formed the LmG Quartet together with Mario Rosini and the front-leader of the soul/funk group Dirotta su Cuba, Simona Bencini, also with the sax alto Gaetano Partipilo and the double bass player Luca Alemanno.
Subsequently, as the leader, I carried out two record works "…of course!" and "Acustronica", the last one arrived first on the Jazz section of the Itunes Italy.I collaborated with Pop artists, like: Novecento, Ron, Billy Preston, Gregg Brown, Marco Armani ,Michele Marmo, Tosca, Mario Rosini, Dirotta su Cuba, Rossana Casale, Lucio Dalla and l'Orchestra della Magna Grecia directed by M°Beppe D'Onghia, Metropolitan Symphony Orchestra of Bari, Symphony Orchestra of the Arturo Toscanini's foundation.
I created the "DrumStory".
A hundred years of drums into one long solo, in which there is a careful chronological sequence of slides of some drums players that have marked the evolution of this instrument, starting with the "marching band" of the first years of the last century till the drums players of today life.
Mimmo Campanale plays and underlines the style and the solos that made famous some like: Gene Krupa, Buddy Rich, Max Roach Elvin Jones etc…
I took part in several Jazz festivals, like:
1996 ImperoTrani Theatre with PHIL WOODS
1998 Jazz Festival Andria with LEE KONITZ
2000 Jazz Festival Andria with JOHN HICKS
2002 Jazz Festival Andria with BOBBY WATSON
2003 Pulsano Jazz with DAVE LIEBMAN Q.Tet
2003 Festival della chitarra Spagna with STANLEY JORDAN & Novecento Groove Machine
2003 Philips International Jazz Festival Dubai with STANLEY JORDAN & Novecento Groove Machine
2003 Oporto Jazz Portogallo with STANLEY JORDAN & Novecento Groove Machine
2004 Jazz Festival Andria with BENNY GOLSON
2006 Multiculturita Jazz Festival Capurso Campanale Qtet "…of course!"
2008 Jazz Festival New York with CON PEGGY STERN
2009 Jazz Festival Molfetta with CON LA S.O E EDDIE DANIELS
2010 with the S.O e RANDY BRECKER Sheraton Bari
2011 with the S.O e BOB MINTZER Sheraton Bari
2012 Jazz Festival Molfetta con VINCE MENDOZA
2013 Jazz Festival Molfetta con JOE LOVANO
2014 Jazz a Molfetta con CHRIS POTTER
2014 Multiculturita Jazz Festival Capurso Acustronica Group
2015 with Cettina Donato Trio, Casa del Jazz, Roma
2016 with L'Orchestra Sinfonica della Citta' Metropolitana di Bari. Tour made by two concerts for the Symphony Orchestra and jazz quartet. Soloist: Fabrizio Bosso, trumpet.
2015 FESTIVAL DELLA CANZONE ITALIANA SANREMO with Serena Brancale
2015 Andria in Jazz with Con Alma Trio meets Jerry Bergonzi
2016 Casa della Musica – MOSCA with STANLEY JORDAN TRIO
2016 Sunset club PARIGI with NICO MORELLI TRIO
2016 Matino Jazz with the FJO and DEE DEE BRIDGEWATER
2016 Foggia jazz with the J.O and DEE DEE BRIDGEWATER
2016 Locomotive Jazz Festival with SIMONA BENCINI & LMG QUARTET
2016 Peperoncino Jazz Festival Roseto Capo Spulico with AKIKO QUARTET
I collaborated with several italian and foreigner musician, like: Maurizio Giammarco, Roberto Ottaviano, Umberto Fiorentino, Tiziana Ghiglioni, Gianni Coscia, Gianni Basso, Bruno Marini, Peggy Stern, Dario Deidda, Fabrizio Bosso, Umberto Fiorentino, Luca Alemanno, Carolina Bubbico, Gegè Telesforo, Rosario Jermano, Maurizio Caldura, Salvatore Bonafede, Franco Ambrosetti, Attilio Zanchi, Marco Sannini, Mario Rosini, Furio Di Castri, Bruno De Filippi, Rossana Casale, Vince Mendoza, Whynton Marsalis, Eumir Deodato, Al Jarreau, Simona Bencini, Emanuele Cisi, Mike Stern, Maria Pia De Vito, Vince Mendoza, Bobby Watson, Danilo Rea, Paolino Dalla Porta, Franco Cerri, Paolo Fresu, Bob Mintzer Dado Moroni, Benny Golson, Dado Moroni, Omar, Jerry Bergonzi, Phil Woods, Lee Konitz, Stanley Jordan, John Hicks, Jeff Berlin, Eddie Daniels, Stanley Jordan, Randy Brecker, Joe Lovano, Dave Liebman, Chris Potter, Jassie Davis Dee Dee Bridgewater. Suona stabilmente con il Mimmo Campanale Quartet, Nico Stufano trio, Jazzerie, Nico Morelli trio, Mario Rosini group, Jazz Studio Orchestra Simona Bencini & LMG quartet, Con Alma trio , Cettina Donato trio.
Tour
1988 -1993 with the Novecento
1994 with the Davide Santorsola trio w/ Phil Woods
1996 with the Davide Santorsola trio w/Lee Konitz
1994 -1996 with Marco Armani
1997 – 1998 with Toti e Tata in "Oesais"
2003 – 2004 with Stanley Jordan
2005 with the Orchestra Metropolitana della Provincia di Bari
2006 with the Sinfonica Arturo Toscanini of Parma opera in 3 movements of J. Lord
2007 with Eddie Daniels and the Jazz Studio Orchestra
2004 – 2010 with Mario Rosini
2008 – Theatrical Tour with Giancarlo Giannini in " Tornare a sud"
2012 with Vince Mendoza and the Jazz Studio Orchestra
2015 Galleggiare Tour Serena Brancale
2015 (December) Theatre Petruzzelli of Bari with L'Italian Big Band directed by M° Marco Renzi
2015 I took part in the Festival di Sanremo as drums player accompanying the singer Serena Brancale
2016 – (April) Casa della Musica di Mosca with the Stanley Jordan trio
2016 – (May) at the Sunset in Paris with the Nico Merelli trio
2016 – (June) with Dee Dee Bridgewater eand the Jazz Forma Big Band
Teaching activity
Since 1994 I am a teacher of drums at the school "Il Pentagramma" in Bari.
2002 I did a seminar for the study about the techniques of Jazz drums in Campobasso.
2004 – 2005 I co-ordinated a musical training course at the Scuola Media Statale "Cafaro" di Andria (BA).
2010 I did lessons for the P.O.N. project as an expert on the matter at the scuola secondaria di 1° grado Don Luigi Sturzo di Grottaglie (TA).
2011 – 2012 I carried out the project of "DrumStory" in these cities: Bari, Biella, Napoli, Roma, Taranto, Brindisi.
2013 As rapporteur, I partecipated to the meeting of "I suoni dell'anima" for ASBAT.